It is no secret that
I love hot chocolate
. It is such a treat and I would have no problem drinking a cup everyday during winter. Although drinking it everyday would be ideal, buying it at a coffee shop everyday is expensive! There are ways to cut down costs. For example, my friend Alison purchases the largest size available and then splits the contents between two containers and saves half for the next day. I have tried this method, but it doesn't seem to work well on my way into work.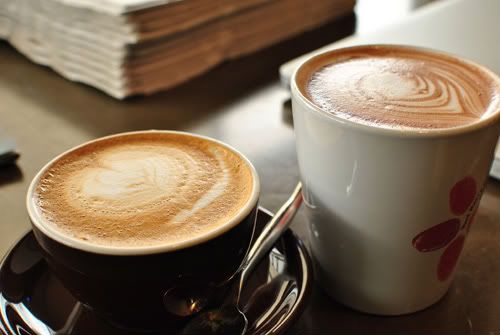 Since Alison's suggestion isn't ideal for my commute, I have decided to make hot chocolate at home
before
I leave for work. Yesterday, I warmed milk in the microwave and then mixed a hot chocolate packet. To be honest, it wasn't very good. The milk tasted burnt and was luke warm by the time I got to the car. Today, I'm going to try warm milk and the hot chocolate sticks my mom gave me for Christmas. I realize hot chocolate packets and sticks may not glamourous, so I'm open to suggestions.
Do you have any fool-proof hot chocolate recipes? Any recommendations for cutting down hot chocolate costs?
(Photo taken by Sobrina from
Quiet Like Horses
)