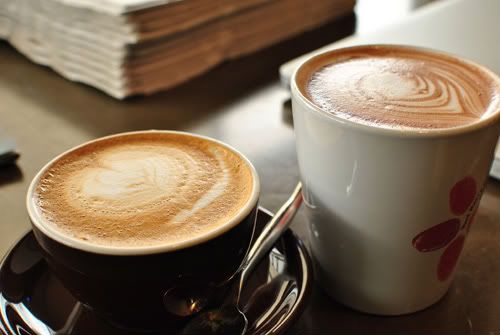 I am lucky enough to be a Content Strategist and contributor for a San Jose magazine called
Content
. Working with the magazine has given me the opportunity to discover the the innovative and creative culture of my city. I love being about to display local artist, entrepreneurs, and business.
A few months ago I was sent out on a mission to find which coffee shop boasts the best hot chocolate. Since I am a lover of hot chocolate, it was an exciting assignment for me. Today, I've decided to share an excerpt of my article here. I hope you enjoy!
Red Berry
Today is a perfect day for hot chocolate.
I was able to snag a sweet spot in the front window of the shop. Usually, this is the coveted spot in coffee shops, but I have to say that the view inward is more aesthetically pleasing than the view of our City Hall's concrete walls.
Upon entering, I feel as though I have stumbled upon a go-to place in a trendy city. Beautifully dark wood lines the bottom half of the walls, while cream walls blend into the ceiling to contrast the wood's richness. The simplicity of their menu board is appealing, and I LOVE the white tile covering the walls behind the counter. It feels very clean, focused, and intentional.
The beauty of Red Berry is in the details. Intricate details have not been lost on the front door, and one of the owners is delicately planting new flowers for the store front. The baristas make each patriant feel as though they are the first and these details make me feel as though time, energy, and effort have gone into my drink.
The hot chocolate is very chocolatey. It tastes as though they melted high quality chocolate and added creamy milk. The temperature is just right and the taste left lingering on my taste buds is not at all bitter. The top layer is a bit frothy (which I don't always love), but once you break through, it is pure enjoyment. It continues to get better with each sip.
To read the
full article
and see what
Content
is up to, click
here
or
here
.
(Photos courtesy of
Content magazine
)